Disguised Links
What are disguised links?
Disguised links are URLs that may appear to have one destination, but in reality go to a different address.
For an example, look at the following link.
It appears that this a link to the MySAU portal, but if you click on it, you'll see that it directs you to Google. Disguising a link this way is very simple, and links in emails and on webpages can both be disguised. Fortunately, there are some very simple ways to determine where a link is really going.
Identifying disguised links
Hovering
Hovering is the easiest way to determine the destination of a link. Simply hover your cursor over the following links, and notice how the real destination is displayed in the bottom left corner of your browser window.
Hovering over this link, you can see that the destination is really a website called "DangerousWebsite.az." Unsafe websites will not always be as overt as this, but as a rule, make sure you only navigate to websites you trust and whose URLs you recognize.
Be Careful!
Malicious actors will often use websites with slightly misspelled names, so read URLs carefully before clicking on any links.
Using a Link Scanner
Link scanners offer ways to gather a lot of information about the safety of a website with little effort.
Simply paste a copied link into a link scanner and hit go. The link scanner will check that website against numerous different malware detection engines. After a couple moments, you will receive a digest that summarizes which engines, if any, found malware. Below is an image from VirusTotal that shows a report for mysau.arbor.edu.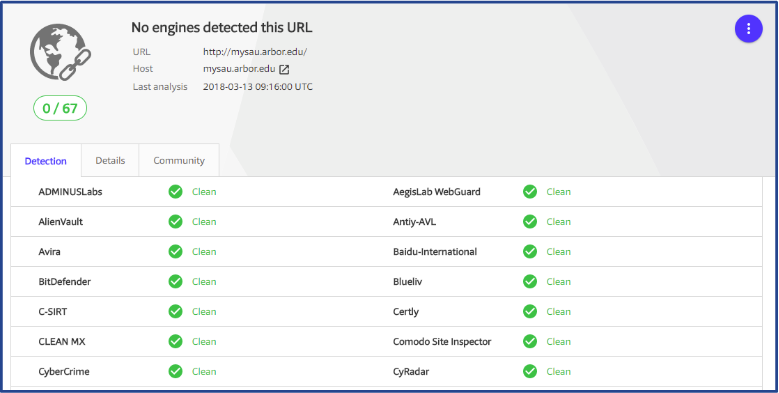 Remember!
Link scanners are helpful, but they are not infallible. Some websites that report as "Clean" may still be unsafe. Always be careful when giving out personal information or login credentials. If a website seems suspicious at all, close the browser window and do not return.
How do I copy a link?
To copy a link to your clipboard, allowing you to paste it into a link scanner, simply right click on the link then look for the option that corresponds to the browser you are using.
| Browser | Menu Item |
| --- | --- |
| Chrome | Copy Link Address |
| Firefox | Copy Link Location |
| Safari | Copy Link |
| Internet Explorer | Copy Shortcut |